About Us
Our experience covers an impressive spectrum of niche high end accommodation to budget travel lodging. The business demands the capacity to offer different services and deal with customised requirements.
The ability to understand and meet clients' broad and varied expectations successfully, has given us the formidable platform to serve property owners well. For us, it is not about giving you a comprehensive solution, it is about fulfilling your expectations.
With a team of proficient experts with over 20 years' experience in property management, revenue and finance assisting, we are geared to efficiently manage day-to-day operational needs - tailormade to your standards.
Our endeavour is that you enjoy maximum financial benefits but also see the growth of your asset as a respected brand, under our pragmatic and dynamic leadership.
We recognise that fostering a cordial and professional relationship with our clients is core, to achieving a win-win solution. Your success is our achievement.
Our Team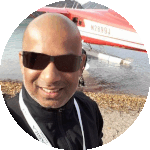 Anuruddha Bandara
Entrepreneur, Niche Tourism Specialist, Management Trainer, Adventurer
Anuruddha Bandara, also known as AB, founded the Eco Team group – a company which has grown to become the most diversified tourism specialist group in Sri Lanka. Prior to finding his calling in life, he worked as a Trainee Executive in a leading insurance company and rose to the ranks of Sales Manager. His typical career path back in the late '90s included everything from Water Cooler Talks to Sales Calls. However, since childhood, he always knew his purpose belonged to the jungles outside the concrete ones. In the year 2000, his passion for nature, adventure, and Eco Tourism (inculcated in him from his younger days) eventually pushed him to resign from a lucrative post. From then on, AB's career path included Water Holes and a very real Call of the Wild as he set out, with only the tools of an Entrepreneur, to become a sustainable adventure specialist, and inadvertently change the tourism landscape in Sri Lanka. Read More..

Hajreen Juhara
Hajreen Juhara, popularly known as Haj, is a charismatic individual with immense experience in customer care and tourism spanning over two decades, locally and overseas.  
His versatile approach ensures detailed logistical planning when it comes to organising meetings, incentives, conferences & events [MICE]. He also overlooks the division managing properties, while the following come under his purview:
Property Management
Process Implementation & Improvements
Sales and Marketing
Customer relationship Management
Negotiation Skills
To Haj client satisfaction is serious business; rendering him an excellent link between owners and customers.

Viroshini Vithanage
Viroshini holds an MBA degree from Cardiff Metropolitan University UK and a National Diploma in HRM from the IPM. An Associate Member of IPM Sri Lanka. Viroshini's expertise in Human Resources Management and Administration accounts for nearly 17 years, in both the financial and NGO sectors.
Her proficiency extends to:
Human Resource Management
People Oriented
Motivational Speaker
HR Training and Consultancy
Team player
Strategic Thinker and Achiever
Viroshini's role in the company is pivotal to its ongoing projects and progress.



 
Bhanuka Jayasuriya
Armed with a BSc. MIT (Management Information Technology) from the University of Kelaniya, Sri Lanka, and PMP (USA), Bhanuka skills encompass Project Management, E-Commerce, E-Marketing and ICT Management.  
His experience in the ICT field spans 15 years and his areas of specialty are:
Software Project Management
Software development
E-Marketing
ICT Management
Web Security
CMS development
Search Engine Optimization
Graphic Designing
Bhanuka's skill, expertise and comprehensive knowledge in ICT ensure an up-to-date, professional and impactful outlook for all ICT and related areas.